Primary school
Good education, a matter of life and death!
A few years ago, we built our own nursery school at our centre. Here, quality education is provided by passionate teachers with attention to the individual child. Once they complete kindergarten, they go to the local primary school. Unfortunately, the quality of education is substandard. There are sometimes 100 pupils in a class, and there is a shortage of materials and motivated teachers. As a result, the results of our sponsor children often deteriorate. Especially the children with concentration and learning problems struggle in primary school. Therefore, our next step is to realise our own primary school.
With our own primary school, we hope to focus on high-quality education. This means motivated teachers with love for their profession, maximum number of pupils in one class, teaching from the Bible & developing and encouraging the skills and talents of every pupil. Good education changes a child forever and gives a child more long-term opportunities. It increases the chances of getting a good job and also has a positive impact on the next generation.
We have now been able to raise enough money to start a primary school. We are very grateful for that! Soon we hope to start building the primary school.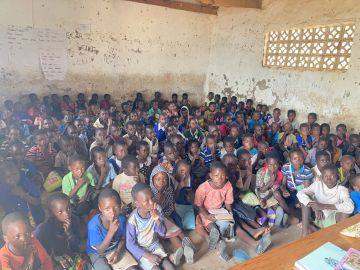 May 2023: Construction of the primary school has begun! The picture shows where standard 1-4 will be built.