Powerless, yet hopefull
17 March 2023
Today we have an interview with Felix and Constantine about the situation in Kwanjana. Felix went there on Tuesday, until he reached the bridge and then he continued walking. On Wednesday afternoon, Felix and Constantine made an attempt to get to Kwanjana by car from the other side, but it failed. On Thursday they tried again, but now with a different car, and after being stuck many times, they were finally able to reach the center.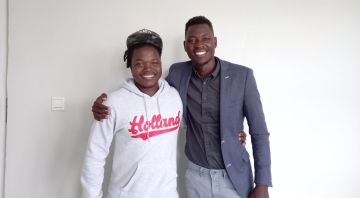 Felix, what was going through your mind when you stood by the bridge on Tuesday and when you could only continue on foot?
I thought, is this the same village? Is this Kwanjana? It looked so different. The road had become a river, we could no longer cross the bridge, everything had changed in a few days. It was like being in another village.
On Thursday you were finally able to get to Kwanjana by car and you saw all the damage in the village. What struck you the most?
Felix: Most people already lived in shabby houses, but now they had nothing left. And it was so shocking to see how nature had segregated the village, it is now actually an isolated area.
Constantine: The first few days you only saw the leakage in your own house and you heard the strong wind and the heavy rain and you saw videos of all the destruction. But when I got to Kwanjana, I saw the harsh reality of Cyclone Freddy. The whole village is now like a broken community. During other rainy seasons or previous cyclones, houses also collapsed, but this time it was so much worse than other times. It all looked so sad and hopeless. And when you see all that, you also ask yourself, where should we start?
What do you find most difficult in this situation?
Constantine: Often I can control my emotions, but I find it hard this time. It's all so overwhelming. We would love to start giving help today, but we don't have the resources to help yet. And then I feel so powerless. Right now, at this moment, when the need is at its highest, we would like to do something for the people and it is very difficult that it is not possible yet.
Felix: I continually remember the woman I first met in Kwanjana, on that Tuesday. Her house had collapsed, and she was so desperate. She said, "I have nothing left, how will I eat now?" It was like she had been grabbed by a crocodile and all I could do was watch. And that is so difficult. You want to help all the people there so badly and you can't.
You have made many attempts to reach Kwanjana, but it was not easy. You were stuck every time. On Wednesday you couldn't even get to Kwanjana, on Thursday after being stuck many times you could, but in the end you couldn't get back by car. How does that make you feel?
Felix: It's so frustrating, you really want to go to the village you love, but then it just doesn't work. That is really very difficult.
Constantine: Indeed, very frustrating. And it seems like you're in a dream, it's kind of unbelievable. Kwanjana is actually like an island, where you want to go, but which is incredibly difficult. We certainly hope to be able to repair the road, but it will take a lot of time and it will be difficult to get to Kwanjana for now.
How do you think it will be in the coming weeks?
Constantine: We certainly hope to find solutions, but it will really take a lot more time to get to Kwanjana. But we certainly hope to find opportunities. It will only slow down all the work.
Felix: Yes, all the work will be harder to do now. Planned projects will be delayed. If only we think about the meals for the children. They always eat at the center twice a day and that hasn't happened for a whole week, so that has already been delayed and also has a lot of impact. It is very important to start working on the road now so that we can reach the center again. First we went to the center to do our work, now coming to the center is a task on itself. But properly repairing the road will take a lot of time and money, especially the part near the bridge.
You talk about repairing roads and bridges. What role does the government play in this?
This question brings some chuckles.
Constantine: Of course it's their job to fix all these things. But there is so much damage everywhere, and the government doesn't even have money, they depend on donors. Normally it takes a very long time for them to repair infrastructure, so I don't think we can expect much from them. There was another bridge broken on another route that you can use to get to Kwanjana and it took the government more than 3 years to repair it.
Felix: To be honest, I don't expect anything from the government. In normal circumstances they hardly care about a village like Kwanjana, so in these circumstances they will certainly not have Kwanjana on their priority list, with all the damage that is happening all over the southern part of Malawi.
But what would happen to Kwanjana if For a Change wasn't there?
Felix: The hopelessness would be enormous and the poverty level would only get worse. When I came to Kwanjana this week, I already saw hope in people's eyes, just because they saw me and have the hope that For a Change will help them. But somehow that also gives fear, because we really won't be able to help all people. And then I just try to be very careful about giving hope, because I don't know if we can make it happen.
Constantine: That's really true indeed. People trust us. And they know when we say something, we make it happen. We are really making a difference in Kwanjana. We work very differently from, for example, the government. If we register people to receive food, they will receive it that same week. And people appreciate that. But indeed, we are also trying to be careful now, because there is so much need. We don't want to give people false hope.
In what ways have the people of Kwanjana been affected?
Constantine: It would be best to ask the people themselves. Words will not be able to describe this. There is no hope, people have nowhere to go. They have lost their home and they cannot escape this situation. The hospitals are far away and almost impossible to reach due to the bad state of the roads and the broken bridge. They have to walk a long way to find transport to go to the hospital. When we tried to reach Kwanjana, we encountered people carrying a man on a self-made stretcher. They had covered the man with a plastic sheet to protect him from the rain. The first 3 kilometers they had to walk with that man to find transport to take him to the hospital. It's so awful. We were stuck with the car. And then we also got a boiling engine. And as it got dark, fewer and fewer people were left to help us. Then we also thought, how can we get home now? But when we were finally able to bring the car back to the center, we shouted to each other, "Praise the Lord." We were so relieved to come to a familiar place again, where there was also light. The For a Change center is the only place in Kwanjana where there is light. In this way we hope that we can really be a light, in the dark Kwanjana. We were then able to go home with another car that came to pick us up, but we had to leave the people there, without food, without a home, without hope. The people are really suffering.

How should we face the future?
Felix: God has placed us in Kwanjana. We can be sure that we will experience difficult things and that things will not go smoothly, but we certainly hope that we can continue to bring hope to Kwanjana. And of course we don't know what the future will bring, but we will fight for Kwanjana. When we now see the 40 houses that we have been able to build with the help of 'Bijzondere Noden', we can already see that life has already changed so much for these 40 families. Their houses are all standing. That way we can continue to bring hope and lasting change.
Constantine: We are clearly seeing the effects of climate change. Nature has been destroyed, cyclones and other disasters will continue to happen. We must be aware of this and try to take this into account where possible and minimize the risks of destruction. And it is true, a disaster is a disaster and you can never build or change a village in such a way that nothing will be destroyed again, but we must be careful and do what we can to reduce the risks. Just to name a few, planting more trees and building more good homes will surely bring long lasting change.
What would you like to say to all the people who sympathize with us, pray along and also provide us with financial resources to be able to (continue to) do our work?
Felix: We want to thank them very much. They are always there for us. Whether with prayer, energy, time or money. And we want to ask you to keep doing this, we need you. Do you know someone who has never heard of For a Change? Connect them with us, we need many hands and hearts to do this work.
Constantine: We would indeed like to thank everyone involved in For a Change. It really means a lot to us. We know that the need is great, worldwide and that much is being asked of you. And that's why we really appreciate you continuing to help us.
May God bless you for all you do is our wish!