Classrooms
We are so excited that the nursery has opened its doors again! Finally all our sponsor children are coming back to school to learn. Only that we cannot teach them all at the same time. Because there is a need to keep distance, we have divided them in 3 groups and they are taught in turns. This means that they cannot learn as much as when they could come to school the whole day. Also the number of sponsor children is increasing, which makes the size of the groups to be big. Therefor it is high time for new classrooms.
The children have come back to school after being 6 months at home, without learning. It shows that repeating is a very important, as they have forgotten a lot of things. The first weeks we will need just to repeat the things that they learned before the closing of schools.
We planned already to build new classrooms, because we wish to have two different groups, so that we can teach them at different levels. As of now we still use the centre for teaching, but how great can it be to have two real classrooms. Time to make a dream reality. Especially this time around, when we have to teach with 'corona adjustments', the classroom blocks have become a priority!
We have planned to build two classrooms. The centre will be used for meetings with the Action Committee, parents and other people from the community.
We have since been able to realize this project and a beautiful nursery has been built. Read more about our new nursery below.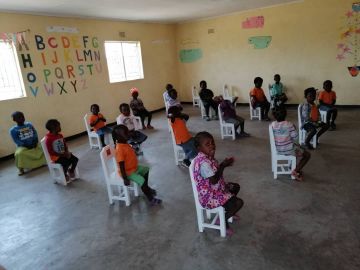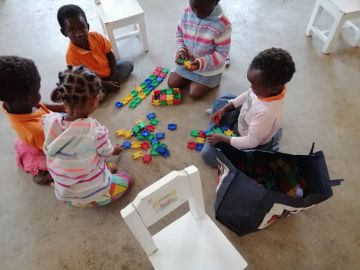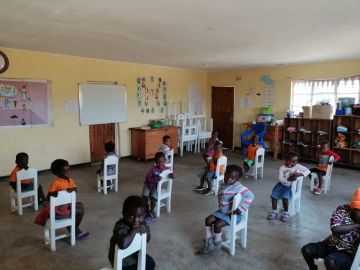 September 2021
What joy in Kwanjana. Finally enough money is available to start the construction of the classrooms. Our chairman of the Dutch board is in Malawi when the construction can start and with a beautiful hand print the start of the new classrooms is a fact! A good start is made immediately. The big job before construction can start is always to remove all the stones. The ground in Kwanjana is very rocky, making it a huge job to have a good foundation, especially since this is all done by hand. But hard work is done and soon we see the beginnings of the new school building.
Oktober 2021
What a development we see every time we get to the center! Right now they are working on the roof. That is very nice, because often the rainy season starts in November, so it is important that the roof is ready then. We are confident that it will be finished in time. Right now we are ahead of schedule, which is very nice.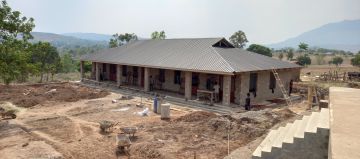 November 2021
It is becoming more and more visible what the school is going to look like. The roof is on, the doors and window frames are in and people are also working hard inside. The walls are being painted, and there will be tiles in all the classrooms. We can't wait to see what it will be like when it is completely finished, but it is clear that it will be beautiful!
December 2021
The classrooms are finished! How beautiful they turned out. Even more beautiful than we could have imagined. We are now busy furnishing the classrooms. There are new tables and chairs for the students, new cabinets, everything looks beautiful. We are looking forward to 2022 and hope that these classrooms may contribute to the fight against poverty. Because it is precisely through quality education that we can defeat poverty, step by step!